---
Title: i wanna see more ladies flauntin' it / Photos from MuffDive
Date(s) of creation: February, 1995
Creator / author / publisher: Malaina Poore, Laura Johnston, FaT GiRL
Physical description: 3 zine pages of Black and white photos and a poem
Reference #: FG2-028-030-MuffDive
Links: [ PDF ]
---
i wanna see more ladies flauntin' it
by Malaina Poore
i wanna see more big titties
in push up bras and halter tops more big girls on dance floors and pedestals
more ass-shakin'
i wanna see more ladies flauntin' wide mama hips, pursed red lips,
thick wrists and
tattooed toes
more girlies bouncin' it grabbing it
caressing it
owning it
lovin' it
chica grande
blues singin' and flauntin' it bump in', grindin' and flauntin' it
kickin' ass an
flauntin' it
strip teasin' and
flauntin' it
chubby, chunky,
portly or stout,
hefty, voluptuous,
fleshy and fat,
wide, plump,
full-bodied and large
it is time for delicious ladies to start flauntin' it
Photos from the FaT GiRL benefit at MuffDive
taken by Laura Johnston
Revi and April shakin' it up to Junkyard's mixes …
[image description: A crowd gathers on the dance floor. At left a light-skinned dancer bares her teeth in a wide grin. She is hugged in skin tight dark lace and velvet, and jewelry catches the light on her hands and neck. At right a fat Black dancer throws up arms to the music. She smiles in velvet underwear and a spangled bra with a dance partner just out of view.]
Jess and Anna check out the spanking booth action … Candida spanking ____ !
[image description: Onlookers with drinks in hand watch as someone in a transparent mesh bodysuit bends over to receive the heavy paddle meeting their ass cheeks. The paddle is wielded by Candida, a femme we see in profile whose chest spills from a lace bra. While one hand swings the paddle, the other steadies her bottom by holding their upper back in place. ]
---
Candida in the sea of breasts … L. to R.: April, Selena, Barbarism, Dina.
[image description: A black and white close cropped photo zoomed in on a semi-circle of three lingerie-clad chests and bits of laughing faces. At the far right we see someone from the neck down in a skin tight black dress, spilling cleavage, and a black collar holding the shoulder and breasts of the person next to her. At bottom center Candida rests her head in the sea of cleavage and gazes up with a beaming smile. Her dark hair is pulled back away from her face and she wears a thin metal chain from her nose ring to earring. She uses her left hand to lift one of the heavy breasts surrounding her as though it is a serving platter. She appears to be in a state of unflinching pleasure.]
Max and Crystal
[image description: Max, a fat White person with short hair is seen in profile cupping a hand around their mouth to speak to Crystal over the din of the dance floor. They wear thick black glasses and a white t-shirt with black leather suspenders crossing their chest and belly. Crystal, a fat Black person with a shaved head smiles wide through their round glasses back at Max. They wear a dark sweater and their facial piercings and bold chain link necklace catch the light.]
---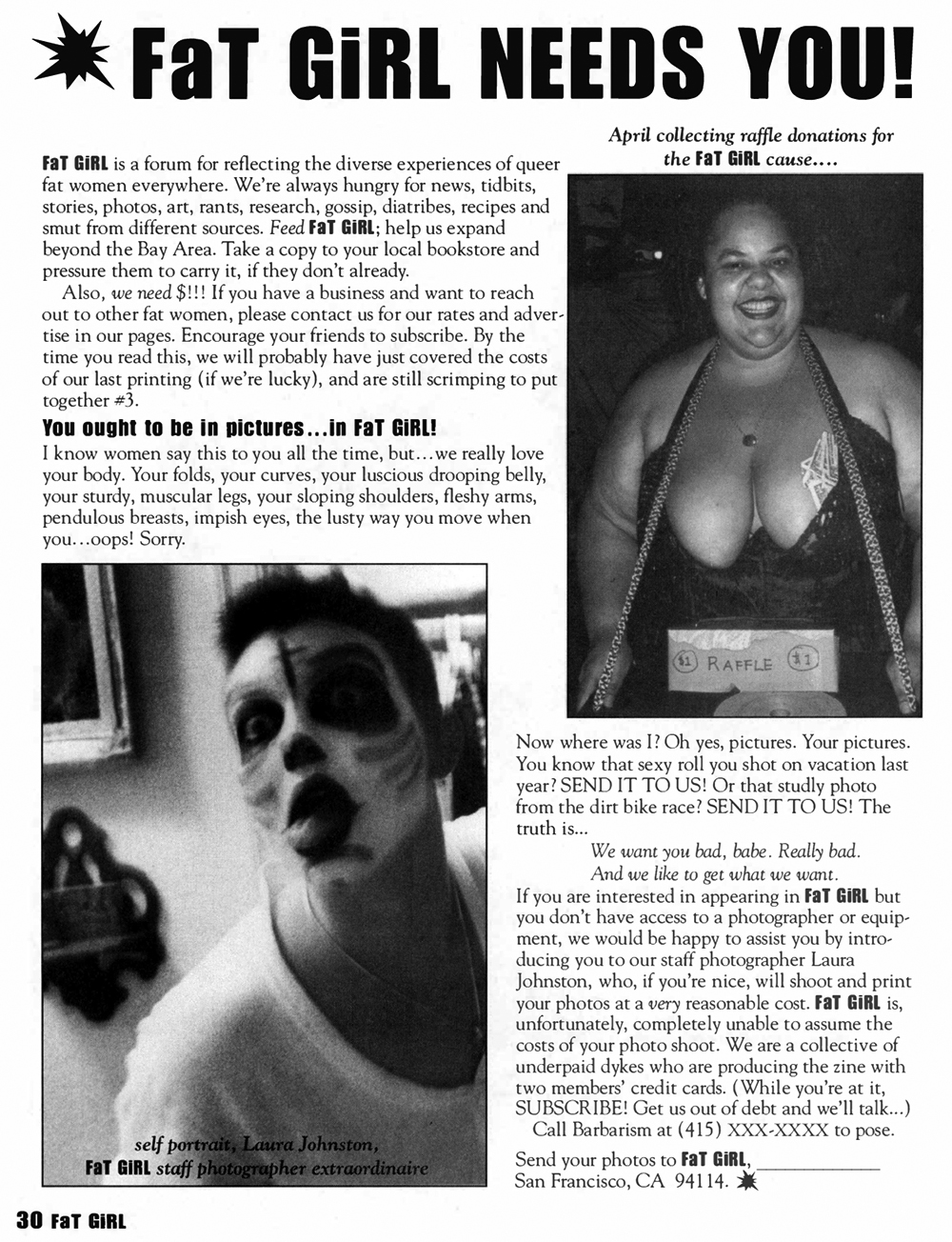 April collecting raffle donations for the FaT GiRL cause ….
[image description: April, a fat Black person grins broadly at the camera. Her lace-clad, flowing cleavage is framed by a cloth strap that holds up the platter of coiled raffle tickets and $1 sign she is gripping in both hands. A wad of dollar bills blooms from between her left tit and lingerie.]
[image description: A blurry-edged self-portrait of Laura Johnston (FaT GiRL"staff photographer extraordinaire") shows a person with short hair and a white henley sticking their tongue out at the camera. They wear white face paint with thick black paint around their eyes, tip of the nose and mouth, and gray lines swept horizontally across their cheeks and chin. The center of their forehead is marked with a smudged black cross reminiscent of Ash Wednesday. ]
FaT GiRL NEEDS YOU!
FaT GIRL is a forum for reflecting the diverse experiences of queer fat women everywhere. We're always hungry for news, tidbits, stories, photos, art, rants, research, gossip, diatribes, recipes and smut from different sources. Feed FaT GiRL; help us expand beyond the Bay Area. Take a copy to your local bookstore and pressure them to carry it, if they don't already.
Also, we need $ ! ! ! If you have a business and want to reach out to other fat women, please contact us for our rates and adver­tise in our pages. Encourage your friends to subscribe. By the time you read this, we will probably have just covered the costs of our last printing (if we're lucky), and are still scrimping to put together # 3.
You ought to be in pictures … in FaT GiRL!
I know women say this to you all the time, but … we really love your body. Your folds, your curves, your luscious drooping belly, your sturdy, muscular legs, your sloping shoulders, fleshy arms, pendulous breasts, impish eyes, the lusty way you move when you … oops! Sorry.
Now where was I? Oh yes, pictures. Your pictures. You know that sexy roll you shot on vacation last year? SEND IT TO US! Or that studly photo from the dirt bike race? SEND IT TO US! The truth is …
We want you bad, babe. Really bad.
And we like to get what we want.
If you are interested in appearing in FaT GiRL but you don't have access to a photographer or equip­ment, we would be happy to assist you by intro­ducing you to our staff photographer Laura Johnston, who, if you're nice, will shoot and print your photos at a very reasonable cost. FaT GiRL is, unfortunately, completely unable to assume the costs of your photo shoot. We are a collective of underpaid dykes who are producing the zine with two members' credit cards. (While you're at it, SUBSCRIBE! Get us out of debt and we'll talk … ) Call Barbarism at (415) XXXXXXX to pose.
Send your photos to FaT GiRL, ____________________San Francisco, CA 94114.
---